TIMING
Timing mats will be located across the course and will give you a minimum of splits every 2.5km. Live tracking is available on all courses. All timing results will be available live online by age group category and will be based on the participant's mat time.
---
BAG CHECK
There will be a bag check service on the Beach Side of MacLean Park. Look out for the signs. Your bib will have a bag tag to tear off and attach. You must NOT drop any gear at aid stations or anywhere on the course for later retrieval.
---
Bib Collection
Kāpiti locals we're having an EXPO at HMC Kāpiti on the Saturday before the event where you can collect your bib. Dark Horse Coffee will be brewing the good stuff and we'll have merch up for grabs.
Otherwise if you're unable to make either of these options work, pop into our rego tent early on event day.
You will need your distance and race number when you go in to pick up your bib.
Saturday 11th 12 – 4pm
HMC Kāpiti EXPO (with Dark Horse on site)
Sunday 12th on site 7-8am
MacLean Park Paraparaumu Beach
---
DARK HORSE CHALLENGE
To promote health and wellbeing within the workplace, Kāpiti Half marathon have teamed up with the legends at Dark Horse Coffee to offer the ultimate workplace challenge to get your crew moving.
Each team of 5 or more participants will receive:
20% registration discount
Go into the prize draw to win 6 months worth of coffee for your office. There is also a prize for the biggest team!
To enter your team is super easy.
Team captain to creates a team.
Shares the entry code with everyone.
Each participant enters and pays for themselves and will automatically receive 20% off thanks to Dark Horse Coffee.
Team gets entered into the draw for 6 months free coffee
Team has an amazing time with heaps of laughs and gets free coffee vouchers so you can continue to talk about your epic adventure.
Are you one of those next level workplaces that support your staff to keep mentally and physically fit? Enter everyone at once using a single registration and pay at the end through the same process. Thanks Boss.
---
AWARDS & SPOT PRIZES
All awards and spot prizes are awarded at the prize-giving which will take place at 12:30 pm at MacLean Park, Paraparaumu Beach. All competitors will be eligible for spot prizes and these will be randomly drawn at the awards.
Non-monetary prizes will be awarded to 1st, 2nd, 3rd placing for the Half Marathon and 10km events in each age group category for Men and Women and will be based on participants mat time. The age group categories are as follows for men and women; 16-19 years, 20-29 years, 30-39 years, 40-49 years, 50-59 years, 60-69 years, 70+ years. Prizes for the 5km will be allocated to 1st 2nd 3rd overall.
---
LATE ENTRIES
Entries will be available online right up until race time. A Late fee of $10 will be applicable to all entries after Sunday 5th November 5 pm.
---
CUT OFF TIMES
If competitors have not passed key points by the specific times, the Traffic Management team may move competitors onto the footpath for the remaining portion of your event. These points will be available shortly.
---
Traffic Management on the Day
There will be road closures on the day of the Kāpiti Half Marathon from 8 am to 12 noon. All roads are still accessible through detours to ensure you can get to your destination.
West side residents of Manly Street have been contacted about accessing their properties. 
Northbound Manly Street Closed from Kāpiti Road to Kotuku Drive
Northbound Marine Parade Closed from Tahi Street – Detour down Tahi for access to Paraparaumu Beach and North Beach.
8:30-10 am – Runners on the North side of Kotuku and Petrel close
Note: Southbound of Manly and Marine Parade is open to all traffic. 
---
Kāpiti Arts Trail
All artists on the Kāpiti arts trail are still accessible using the appropriate detours. For artists on Manly Street, Beach Haven, George and Arthur Street use diversions down Golf Road and side roads to reconnect. Please remember when leaving the artists premises that Northbound traffic is closed.
Huge shout out to the local residents who make this all possible with your understanding.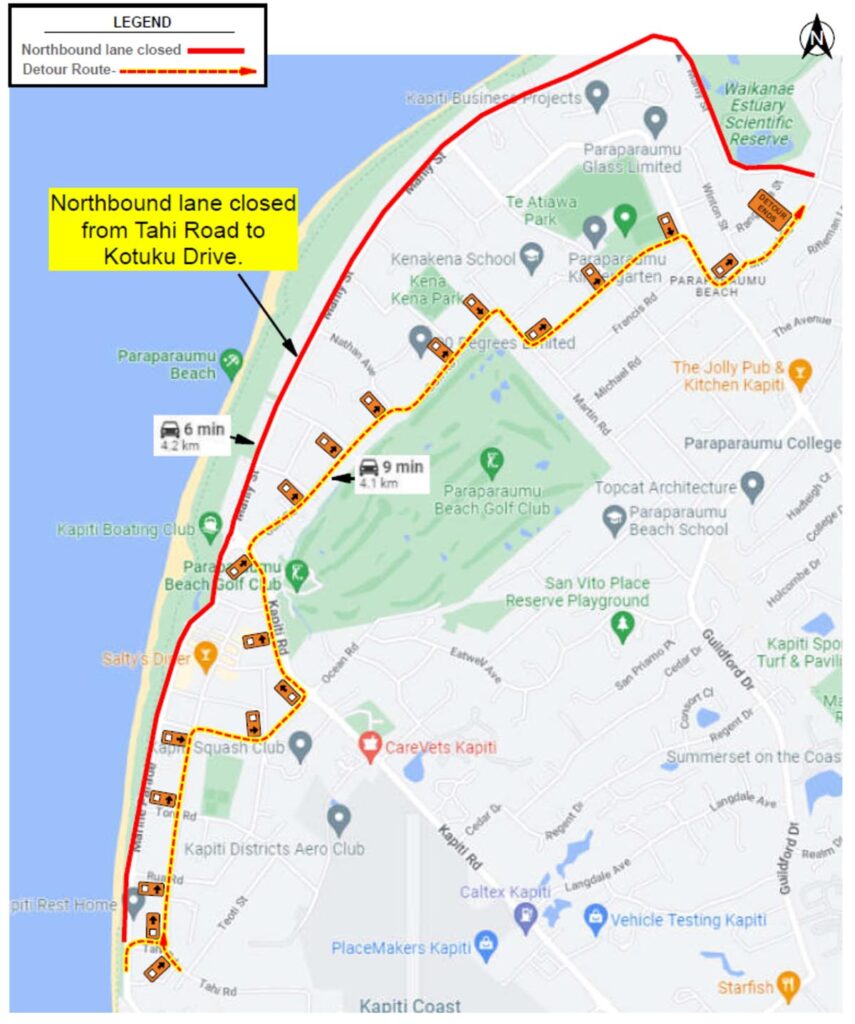 ---
Parking
No parking Saturday evening 11 and Sunday Morning 12 November:
Manly Street or Marine Parade.
North Side Kotuku Place
North Side Petrel Place